Since the Wright brothers led the way, venturing into the skies and beyond has always been a dream for many kids and adults alike. Through the application of the most advanced and rigorous systems engineering methods, Engenya helps to turn these dreams to reality…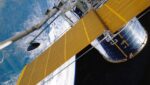 Needs analysis, stakeholder analysis, requirements engineering, functional analysis, system architecting, concept development, detailed development, integration, verification, validation.
Linear and non-linear analysis, static and dynamic analysis, transient analysis, coupled phenomena, aerodynamics, vibration, time domain, frequency domain, frequency response, thermal analysis, thermal management, fluid mechanics, fatigue, damage tolerance.
Concept design, concept evaluation and selection, proof of concept, concept prototyping, detailed design, component design, system design, design integration, testing.
Through the years, our people have worked on a number of aerospace projects and applications. Here are some of the most interesting:
Coordination of thermo-mechanical design and analysis activities in the development of optical terminals for the Telesat Lightspeed constellation. (More).
Structural design and analysis of a six degree of freedom, picometer accuracy, controllable mirror mount for installation on a coronagraph satellite.
Concept and architecture development of a Contained Sample Handling and Analysis System for NASA's Mars Sample Return Mission. (More).
Structural design, analysis and qualification of a Cell Culture Unit for use on the International Space Station.